JOMAR VILLAMOR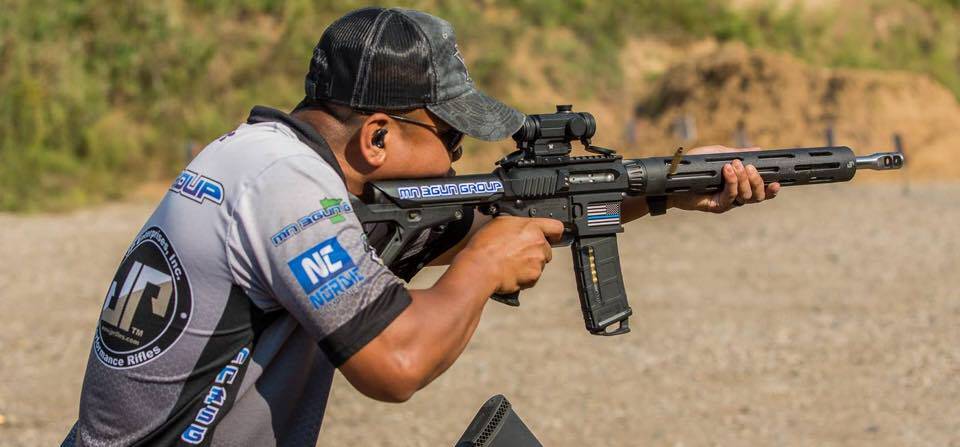 Jomar Villamor is a 20-year veteran of the Minneapolis Police Department.  He has held numerous assignments including Patrol Officer, Beat Officer, SWAT, Honor Guard, Mounted Patrol, Investigations, and Training Instructor.  He also served as the Coordinator of the Minneapolis Police Shooting Team.  Jomar is a highly decorated officer with numerous awards and recognitions, including twice being the recipient of the Medal of Valor, both times for confronting and apprehending an armed suspect who had just committed murder.
Throughout his law enforcement career, Jomar has attended numerous training courses from many reputable firearms schools and instructors from all over the nation.  As a Firearms Instructor, Jomar stays up to date with modern day firearms, tactics and gun fighting, and passes his knowledge to new police recruits and seasoned officers.
Jomar began competitive shooting in 2005.  Starting in the United States Practical Shooting Association (USPSA) discipline, Jomar quickly rose to the top standings in the Minnesota matches.  Jomar's introduction into 3-Gun was birth by fire when he attended the once famed DPMS Tri-Gun Challenge which was well known as THE 3-GUN EVENT in the nation.  Jomar finished strong, as did his passion for 3-Gun.
Jomar shoots 3-Gun in the Heavy Metal Division, which requires the use of a .308 caliber rifle with non-magnified optic or iron sights, a .45 caliber handgun, and a 12 gauge manual shotgun.  He loves the added challenge of the heavy calibers and the limited magazine capacity as it requires the shooter to be more disciplined and focused.  He is well known as a top contender is the Heavy Metal Division, and regularly finishes in the top rankings in major 3-gun events.
Jomar is a co-founder of the MN 3Gun Group which hosts and promotes the 3-gun and shooting sports in Minnesota.  Working with Jay Schmitt and Chris Cazin, he is tasked with putting on and managing matches and events, as well as instructing at training events to help shooters develop their firearm handling and shooting skills.  The MN 3Gun Group has the reputation of putting on quality major matches such as the Nordic Vortex Tri-Gun and the Nordic Components Tactical Shotgun Championships.
Jomar is also well known in the MN shooting community for not only his volunteer work with the MN 3Gun Group, but also for his volunteer work in supporting other shooting sports and clubs.  In 2014, Jomar started the MN Shoot Schedule and Calendar which provides shooters with monthly emails and notifications of action shooting events, as well as an online all-in-one calendar of the action shooting events from the many clubs.  This free service is well recognized by hundreds of action shooters and well supported by all the shooting clubs.
Some of Jomar's match highlights:
2018 Missouri 3-Gun Championship – 1st Place in Heavy Optic Division
2017 Nordic Components & Vortex Optics Tri-Gun – 1st Place in Heavy Limited Division
2017 MN 3Gun Group 3-Gun League – 1st Place in Combined Heavy Division
2017 Blue Ridge Mountain 3-Gun Championships – 1st Place in Heavy Limited Division
2017 Missouri 3-Gun Championship – 2nd Place in Heavy Optic Division
2016 Nordic Components & Vortex Optics Tri-Gun – 1st Place in Heavy Limited Division and High Law Enforcement Officer
2016 MN 3Gun Group 3-Gun League – 1st Place in Combined Heavy Division
2016 Generation III Gun Championships – 3rd Place in Tactical Irons Division
2016 Blue Ridge Mountain 3-Gun Championships – 3rd Place in Tactical Irons Division
2016 USPSA Minnesota Sectional Match – 2nd Place in Pistol Caliber Carbine Division
2016 Missouri 3-Gun Championship – 3rd Place in Heavy Optic Division
2015 Forest Lake Sportsmen's Club Tactical Shotgun League – 1st Place in Pump Division
2015 MN 3Gun Group 3-Gun League – 1st Place in Heavy Metal Division
2015 Blue Ridge Mountain 3-Gun Championships – 3rd Place in Heavy Metal Division
2015 Generation III Gun Championship – 1st Place in Heavy Metal Division
2015 USPSA Minnesota Sectional Match – 2nd Place in Single Stack Division
2015 Nordic Components Tactical Shotgun Championship – 2nd Place in Pump Division
2015 Missouri 3-Gun Championship – 1st Place in Heavy Metal Division
2014 Blue Ridge Mountain 3-Gun Championships – 1st Place in Heavy Metal Division
2014 USPSA Minnesota Sectional Points Series – 1st Place in Limited 10 Division
2014 USPSA Minnesota Sectional Match – 1st Place in Limited 10 Division
2014 Midwest 3-Gun Championships – 1st Place in Heavy Metal Division
2013 Blue Ridge Mountain 3-Gun Championships – 2nd Place in Heavy Metal Division
2013 Midwest 3-Gun Championships – 1st Place in Heavy Metal Division
2012 Blue Ridge Mountain 3-Gun Championships – 3rd Place in Heavy Metal Division
2012 USPSA Minnesota Sectional Points Series – 1st Place in Limited 10 Division
2012 USPSA Minnesota Sectional Match – 1st Place in Limited 10 Division
2012 Nordic Components Tactical Shotgun Championship – 2nd Place in Pump Division
2012 Can-Am Police & Fire Games – 1st Place in Duty Handgun Division
2012 Midwest 3-Gun Championships – 2nd Place in Heavy Metal Division
2011 Nordic Components Tactical Shotgun Championship – 3rd Place in Pump Division
2011 Midwest 3-Gun Championships – Top Law Enforcement Overall and 2nd Place in Heavy Metal Division
2010 Ozark 3-Gun Championships – 2nd Place in Heavy Metal Division
2010 USPSA Minnesota Sectional Match – 1st Place in Single Stack Division
2010 Midwest 3-Gun Championships – 3rd Place in Heavy Metal Division
2010 Superstition Mountain Mystery 3-Gun Championships – 3rd Place in Heavy Metal Division
2009 USPSA Minnesota Sectional Match – 1st Place in Single Stack Division