JAY SCHMITT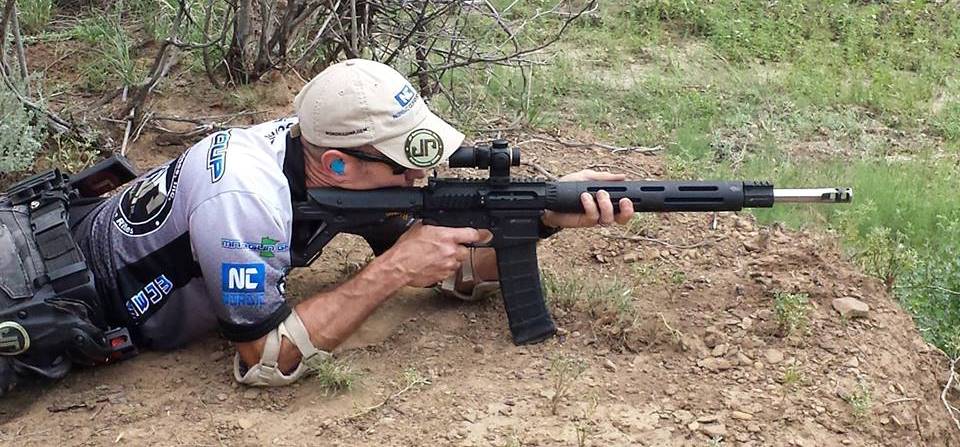 Jay is a 20-year veteran of the Minneapolis Police Department.  He has worked primarily as a Patrol Officer, served on the SWAT team and the Bicycle Rapid Response Team, and was a member of the Minneapolis Police Shooting Team.   As a Firearms Instructor, he is involved in training new recruits and providing 21st century gun fighting skills to the officers of the department.  Currently assigned as an Investigator he is tasked with targeting violent criminals.  Jay has received numerous awards from the Police Department including a Medal of Valor for rescuing a fellow officer who was shot with an AK-47 and a Medal of Honor for climbing out over the Mississippi onto the debris of the I-35W bridge collapse and rescuing those who fell when the bridge went down.
Jay attended his first major 3-Gun with Jomar Villamor in 2005 at the DPMS Tri-Gun Challenge, and he was immediately locked into the sport.  In addition Jay is a member of USPSA and the NRA.  Most notable shooting accomplishments are a 1st place Limited Division / High Law Enforcement at the Blue Ridge Mountain 3 Gun in 2012 and a 1st place Limited Division / High Law Enforcement at the 2014 JP Rocky Mountain 3 Gun World Championships.  These 2 matches are some of the toughest 3-gun matches in the country, both physically demanding as well providing some of the most difficult shooting challenges and scenarios of all events.
As a founding member of the MN 3Gun Group, he designs stages and manage matches.  In addition, instructing numerous competition training classes locally, having some 200 plus shooter participating in the training modules.  Jay, Jomar and Chris Cazin are an effective team both in competition, match management and training being able to effectively cover the topics involved in 3-Gun.
As a Law Enforcement Officer, competitive shooting has been used as a tool to sharpen the skills needed to survive on the street.    Jay has attended and been instructed by some of the best shooters and instructors in the USA.
Some of Jay's match highlights:
2018 Missouri 3-Gun Championship –  5th Place Limited Division
2017 Missouri 3-Gun Championship – 3rd Place Limited Division
2017 Nordic Components & Vortex Optics Tri-Gun – 8th Place Limited Division
2017 MN 3Gun Group 3-Gun League – 6th Place Limited Division
2017 Generation III Gun Championship – 7th Place Limited Division
2016 MN 3Gun Group 3-Gun League – 2nd Place Limited Division
2016 Blue Ridge Mountain 3-Gun Championships – 2nd Place in Limited Division
2016 Missouri 3-Gun Championship – 2nd Place Limited Division
2016 Nordic Components & Vortex Optics Tri-Gun – 9th Place Limited Division
2015 MN 3Gun Group 3-Gun League – 1st Place Limited Division
2015 Missouri 3-Gun Championship – 1st Place Limited Division
2015 Generation III Gun Championship – 7th Place Limited Division
2015 Nordic Components Tactical Shotgun Championships – 13th Place Auto Division
2014 Blue Ridge Mountain 3-Gun – 3rd Place Limited Division
2014 JP Rocky Mountain 3-Gun World Championship – 1st Place and High Law Enforcement Limited Division
2014 Midwest 3-Gun – 3rd Place Limited Division
2014 Nordic Components Tactical Shotgun Championships – 7th Place Auto Division
2013 Midwest 3-Gun – 7th Place Tactical Iron Division
2013 Nordic Components Tactical Shotgun Championships – 7th Place Auto Division
2012 Blue Ridge Mountain 3-Gun – 1st Place and High Law Enforcement Limited Division
2012 Nordic Components Tactical Shotgun Championships – 5th Place Auto Division
2011 Blue Ridge Mountain 3-Gun – 7th Place Tactical Iron Division
2011 Ozark 3-Gun – 5th Place Tactical Iron Division
2010 Midwest 3-Gun – 2nd Place Tactical Iron Division
2010 Ozark 3-Gun – 2nd Place Tactical Iron Division