CHRIS CAZIN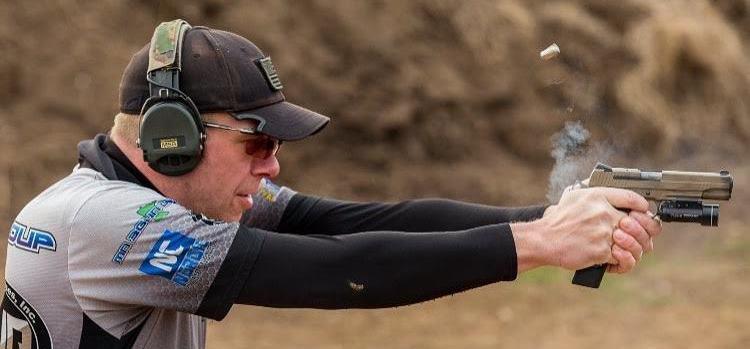 Chris has worked as a police officer for the past 20 years. During this time, he's spent over twelve years as a firearms instructor and has been an entry team member for SWAT for a decade. In the mid-2000s, he attended a training class that included an IPSC-inspired practical shooting course. After that, a quick internet search led him to the realm of practical shooting and 3-Gun in particular.
This new interest started out as just a way to get more trigger time to enhance weapon proficiency on the job. It wasn't long before Chris realized he'd stumbled across a hobby he has grown to love. "What I found was that the level of stress that exists during match conditions helped me to feel more comfortable during stressful situations on the job," says Chris.
Since taking up the sport, Chris has put himself to the test at several national-level matches as well. "I've shot matches all across the country, but I really like the natural terrain events that involve plenty of movement and challenging target presentations. Matches like Blue Ridge, Rocky Mountain, and FNH where the targets are out among the hills and trees are great. They test not only your shooting skills, but force you to be on your mental and physical game also."
Chris is actively involved with the Minnesota shooting community. Along with Jomar Villamor and Jay Schmitt, they are responsible for match design and coordination of all the Minnesota 3Gun Group matches, which have become the top tier matches for the 5 state region. The MN3GG also puts on several competition training classes each. Chris, Jomar, and Jay are the lead instructors for these classes. They are proud to have had trained plenty of the best and up and coming shooters in the region.
Some of Chris' match highlights:
2018 Missouri 3-Gun Championship – 2nd Place Heavy Optics
2017 Missouri 3-Gun Championship – 1st Place Heavy Optics
2017 MN 3Gun Group 3-Gun League – 1st Place Tactical Limited
2017 Nordic/Vortex Tri-Gun Championship – 3rd Place Heavy Optics
2017 Blue Ridge Mountain 3-Gun – 13th Place Tactical Optics
2016 MN 3Gun Group 3-Gun League – 4th Place Tactical Optics
2016 Generation III Gun Championship – 17th Place Tactical Optics
2016 Blue Ridge Mountain 3-Gun – 20th Place Tactical Optics
2016 Nordic/Vortex Tri-Gun Championship – 2nd Place Heavy Optics
2016 Missouri 3-Gun Championship – 1st Place Heavy Optics
2016 MN 3Gun Group 3-Gun League – 4th Place Tactical Optics
2016 Generation III Gun Championship – 17th Place Tactical Optics
2016 Blue Ridge Mountain 3-Gun – 20th Place Tactical Optics
2015 MN 3Gun Group 3-Gun League – 2nd Place Tactical Optics
2015 Generation III Gun Championship – 3rd Place Heavy Optics
2015 Nordic Components Tactical Shotgun Championship – 5th Place Pump
2015 Missouri 3-Gun Championship – 1st Place Heavy Optics
2015 Blue Ridge Mountain 3-Gun – 21st Place Tactical Optics
2014 JP Rocky Mountain 3-Gun World Championship – 6th Place Heavy Optics
2014 Blue Ridge Mountain 3-Gun – 20th Place Tactical Optics
2014 Midwest 3-Gun – 1st Place Heavy Optics
2014 Task Force Dagger 3-Gun – 2nd Place Heavy Optics
2013 Fallen Brethren 3-Gun – 5th Place Heavy Optics
2013 Midwest 3-Gun – 1st Place Heavy Optics
2013 Task Force Dagger 3-Gun – 4th Place Heavy Optics
2012 FNH 3-Gun Championship – 1st Place Heavy Optics
2012 3-Gun Nation – Amateur Nation Champion